Toby Dammit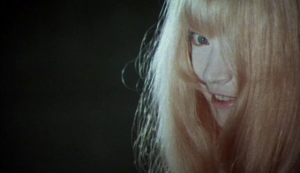 When I was about nine years old and living in France I saw Histoires Extraordinaires (Spirits Of The Dead) on a small black and white TV late one night when I couldn't get to sleep. Suffice to say it scared the hell out of me, mainly because of the unsettling and truly bizarre Fellini portion of the film, 'Toby Dammit'. Based loosely on several Edgar Allen Poe stories, seeing this collection of short films coincided with my asking my mother for Poe's complete anthology, that I got for my tenth birthday and I still have to this day.
The Fellini segment is based on the Poe story 'Never Bet The Devil Your Head'. You could argue that it's not that close to the original piece, but the uneasy and confused state of mind that Fellini creates with art direction and camerawork captures something about Poe's writing that I find fascinating; a sense of evil and a distrust of social norms. In some ways, Toby is better off at the end.
A very nice person has made this available on YouTube in five parts.
Toby Dammit One

Toby Dammit Two

Toby Dammit Three

Toby Dammit Four

Toby Dammit Five