I've been off Twitter for a while, but since I resumed book writing mode I've been back with a vengeance, following and reading about what other authors, fans and reviewers are doing these days and how they use Twitter to interact with each other and the wider world.
It's not pretty.
Twitter today is borderline unbearable. Every other author appears to think that the rules of engagement were written for everybody else to follow, and are confusing conversation with exclamation. It's like being at the worst literary dinner party ever, each guest shouting out the title of their book as loudly as possible simultaneously, at set intervals, over an infinite number of courses. Even a spot of one-upmanship would be nice, but everyone is so busy composing their next ear-shattering tweet that there's little chance of anybody noticing what everyone else is up to.
I thought bands were bad (and I've plenty of experience with those), but it turns out that authors are far, far worse. For people whose passion it is to communicate, I find it unfathomable that so many authors seem unable to construct any form of cohesive dialogue on Twitter.
If, as a reader, you were offered a free copy of someone's new book based solely on a months worth of their tweets, whose book would you choose? The repetitive, automated Twitter exclamations of a writer simply telling you to buy, buy, buy his book, or the tweets of someone letting you into his world, tweeting as he writes, being human and, more importantly, actually being there?
I'd like to think you'd opt for the author you can connect with.
In light of all that, I've compiled a list of the top twenty things I personally think that authors should stop doing on Twitter RIGHT NOW. I'm not going to suggest what they COULD do. Rather, I'm asking authors out there the question; If you stopped doing these things on Twitter TODAY, what would, what COULD you do instead?
TWITTER LITTER – MY TOP 20 TWITTER NO-NOS
FOR AUTHORS

1. Stop shouting your book title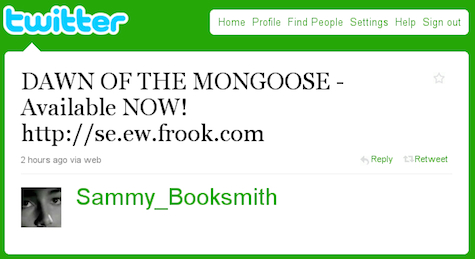 Simply repeating your book title, over and over again, in the hope that someone in their Twitter stream will see it and think 'Oh, a book, I must buy that and take an interest' is completely misguided. Seeing a book while you scroll through a list on Amazon is one thing; it's what it was designed for. Using Twitter to promote your book in the same way is missing the point of Twitter altogether.
Continue reading